GREEDY GERTRUDE MISSIONS
Nimbus is the home of Greedy Gertrude. Don't let her halo fool you, Greedy Gertrude is not as angelic as she appears. All day Greedy Gertrude sits on her cloud dreaming up ways to prove she is better than everyone else.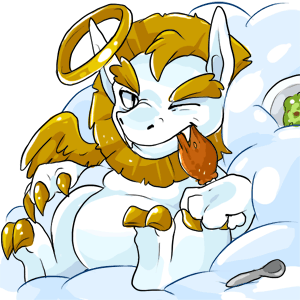 Greedy Gertrude is very impressed by pets who enjoy eating Gourmet Foods as much as she does and wants to challenge these pets. She has 30 different missions for you, each harder than the last. Greedy Gertrude will show you a gourmet food item and your pet will need to have eaten this item. You can then come back here and complete the mission.
WARNING ~ THIS MISSION CAN ASK FOR ANY GOURMET FOOD ITEMS INCLUDING RETIRED AND RARE FOODS
No.
Prize
No.
Prize
No.
Prize
No.
Prize
1


Thunder Potato
2


250mps
3


Thunder Shirt
4


500mps
5


750 mps
6


1000 mps
7


1250 mps
8


Thunder Sword
9


1500 mps
10


1750 mps
11


2000 mps
12


Sniffles
13


2500 mps
14


3000 mps
15


4000 mps
16


5000 mps
17

Thunder Shield
18


7500 mps
19


15000 mps
20


20000 mps
21


Potion Plushie
22


30000 mps
23


40000 mps
24


Thunder Costume
25


50000 mps
26


75000 mps
27


Thunder Stamp
28


85000 mps
29

Potion Making
Guide Book
30


Lorius Potion



100000 mps
| | |
| --- | --- |
| | avatar gained from completing Mission 12. |
| | avatar gained from completing Mission 24. |
| | avatar gained from completing Mission 30. |